Health Insurance Information and Forms
BLUE CROSS BLUE SHIELD
Blue Cross Blue Shield (BCBS) is the claims administrator for the Village of Hoffman Estates' HMO/PPO medical plans. BCBS determines if you and your dependents are eligible for benefits and processes your claims.
»Contact BCBS
for questions concerning eligibility, plan benefits, or status of claim payments. HMO Illinois Customer Service Representatives can be reached at
800.892.2803
between 8:30 a.m. and 7:00 p.m., CST, Monday through Friday.
PPO Customer Representatives can be reached at 800.458.6024.
» BCBS's Website
is both user-friendly and informative. The site allows you
to seek answers about BCBS and available HMO/PPO doctors and hospitals, and to link to vendor sites.
Their web address is: www.bcbsil.com.
»Virtual Visits
Your health care coverage includes virtual visits solution, powered by MDLIVE. A virtual visit lets you have a live consultation with an independently contracted, board-certified MDLIVE doctor or therapist. This can happen 24 hours a day, seven days a week by mobile app, online video or phone.1
Instead of going to the office, you can have a virtual visit while at home, work or many other places. And, a virtual visit can cost less than going to the urgent care clinic or emergency room.
Getting Care
MDLIVE's doctors and therapists can treat many non-emergency medical and behavioral health conditions, like:
General Health Pediatric Care Behavioral Health (by appt. only)
Allergies Cold/Flu Online Counseling
Asthma Ear Infections Child Behavior/Learning Issues
Sinus Infections Pink Eye Stress Management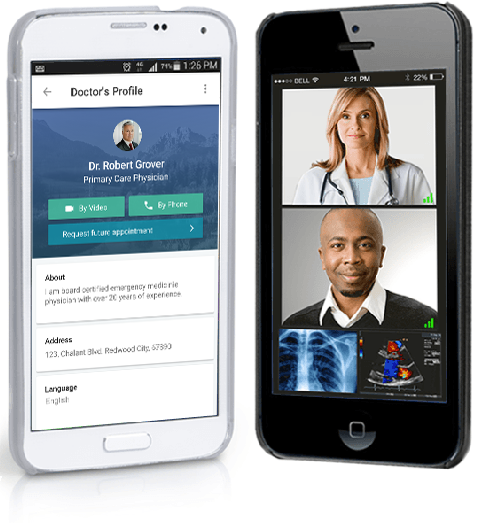 Choosing a Doctor
Finding a virtual visits doctor is easy. You'll:
Log into Blue Access for MembersSM (BAMSM)
Visit the My Coverage tab to make sure you have the Virtual Visit benefit2
Select the Virtual Visits link in the My Coverage Benefits box
Sign up on MDLIVE's website
Website: Visit the website MDLIVE.com/bcbsil
Mobile app:
• Download the app from the Apple App StoreSM, Google PlayTM Storeor Windows® Store
• Open the app and choose a doctor
• Video chat with the doctor from your mobile device
Telephone: Call MDLIVE (888-676-4204)
• Speak with a health service specialist
• Speak with a doctor
» Blue Care Connection
offers convenient online tools and personalized telephone services that
help support, inform and motivate individuals in their wellness
efforts. All employees, spouses, and dependents covered under the
Village of Hoffman Estates' BCBS medical plans can participate at
no charge to you. Employees can learn about their health status and potential health risk by
completing the confidential Health Risk Assessment online by logging in
to the secure Blue Access for Members web site at www.bcbsil.com.
Programs available through Blue Care Connection are: Personal Health Manager,
Blue Points (a program that rewards you for engaging in healthy activities),
Special Beginnings (maternity program offering expectant mothers support and education),
Blue Care Advisors and Case Management. Employees can connect with a Blue Care Connection
Personal Health Manager at www.bcbsil.com. Here you and your dependents can take
advantage of these online resources regardless of your health status or fitness level.
» Employees can also access a Blue Care Connection registered nurse on their 24/7 Nurseline at 800.299.0274.